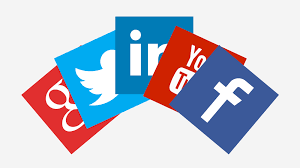 How do you USE Social Media?
Social media is a blessing and can be very dangerous depending on how you use it. Social media is great for businesses they can promote products, services, and tell people how successful they are. The danger of social media is what so many college students aren't aware of. The minute they post a wrong thing on Facebook or Twitter it can impact the rest of their lives. I recently changed my habits on how I utilize my social media outlets. I use Facebook to promote myself and what I am doing, I use Instagram to post inspirational quotes once a day to gain a following, and I use twitter to direct people to my website.
I recently learned how to properly use social media, not for Farmville or other games on Facebook but instead to help promote myself and allow others to get insight on what I am doing. I started using event pages to help Laura Peterson become a Best-Selling author, I joined entrepreneur communities within Facebook to gain valuable knowledge on what the latest way is to capture peoples emails, and I also have fun with Facebook live. Moreover, I've been exploring exciting opportunities in the world of new UK online casinos. People have created businesses all around social media to help you gain followers on Instagram or create click funnels for local businesses.
The world is changing and so is how were connected, college students should be changing their mindsets on how they use social media outlets. You should even start screening what you say, who you follow, and what posts you like. People such as Mark Cuban, have came out publicly to talk about the dangers of who you follow and what pages you like, he is apart of projects for companies that are creating social profiles for each one of us that will follow us around.
So instead start taking advantage of the fact that there are 1.71 billion active users on Facebook that are more likely to watch your Facebook live video then a picture you posted. Facebook live has grown 75% in the last year and is the biggest way to promote yourself. It will help you start building a brand and bring out the best of yourself, plus it is a ton of fun. The world is moving in such a rapid pace and connected online show people around the world your face and what you are doing.
Next time you sign into Facebook I urge you to hop on Facebook live and let the world know what you're doing, how you're doing it, and most importantly why you're doing it. What drives you, social media is a great tool for us to reach people we could never have met otherwise, use social media for the new brand growing purposes and you will definitely see the benefits out of it. And if you're into car enthusiasts and racing, don't forget to check out Drift Hunters!